Phantom Dorsal Night Splint Support
This model features aluminum stays which can be bent to properly stretch the foot to relieve symptoms. The MedSpec Phantom Dorsal Night Splint is created to hold the foot in a stretched position to treat a variety of conditions like plantar fasciitis and achilles tendon strains.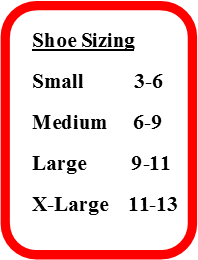 For customers wishing to order multiple qtys across the different sizes below, Please call us on 062-77014 for discount pricing.
This model features aluminum stays which can be bent to properly stretch the foot to relieve symptoms. The MedSpec Phantom Dorsal Night Splint is created to hold the foot in a stretched position to treat a variety of conditions like plantar fasciitis and achilles tendon strains. Elastic material underneath the foot is created to assist the stays in creating a comfortable stretch that can be maintained throughout the night. Your foot is held closer to the device for a more effective stretch. The Phantom dorsal night splint is padded on all surfaces to avoid any hard surfaces from contacting the opposing leg. The construction of the material throughout the forefoot is designed to maintain proper foot positioning against the dorsal stay for effective treatment of symptoms. The Phantom dorsal night splint is made in the USA under higher quality control standards and features high quality workmanship
Sizes:
XL 11-13

L 9-11

M 6-9

S 3-6