Sacro Lumbar Back Support
Low profile 9" elastic support with double side pull compression straps. Neoprene posterior panel accommodates ComfortFORM™ Moldable Insert Ideal for providing support and compression for strains, sprains of the low back and abdominal area.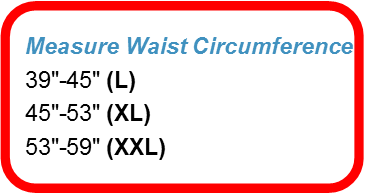 For customers wishing to order multiple qtys across the different sizes below, Please call us on 062-77014 for discount pricing.
Low profile 9" elastic support with double side pull compression straps. Neoprene posterior panel accommodates ComfortFORM™ Moldable Insert Ideal for providing support and compression for strains, sprains of the low back and abdominal area Sizing - Measure Waist circumference