'Matt and the team at Sports Physio & Performance have become an integral part of the Science and Medicine team at Cricket Ireland. In the short few years I have been fortunate to lead the medical services at CI, Matt has been there throughout, supporting us with supplying not only Physiotherapy consumables, but also our strength and conditioning and sport science departments have benefitted from the very wide range of equipment and stock that they can supply. This has helped us train and fitness test both our Men's and Women's national squads as well as our Ireland Wolves team and national academies. The team have also been extremely accommodating by sourcing and providing items that they may not have sold in the past or items that are specific to our sport which allows us the ease of only having to deal with one company that we have the highest confidence in.
Throughout the COVID-19 pandemic, Sports Physio & Performance were also invaluable in getting us back to training and playing safely by providing all of our hygiene equipment, temperature checking equipment and signage for our High Performance Centre in Dublin and our 2 performance hubs in Northern Ireland. Matt also assisted in putting together Home exercises packs in order to allow all of our players to get the most of their training whilst in lockdown. Due to success of this, Sports Physio & Performance were Cricket Ireland's top recommend company for all cricket clubs in Ireland to source and procure their COVID-19 safety packs which allowed them return to playing the sport they love. I'm very much looking forward to continuing our strong relationship with Matt and the team.'
Mark Rausa
Head of Physiotherapy and Medical Services
Cricket Ireland
---
Grounds & Clubhouse Requirements

- Sinage for Inside and outside your Grounds and Club house
- Hand Sanitiser and Anti bacterial Soap & Dispensers
- Disinfectant cleaners for surfaces and training equipment
- Infra Red Thermometer for Temperature checks
---
Medical & Coaching Team Requirements

- Type IIR Mask rec. by ISCP / HSE for player treatment or dealing with injuries (inside 2m)
- Type 1 masks for outdoor use for coaches, Management etc.
- PPE to treat injured players
- 120ml Portable Hand sanitiser
- Infra Red Thermometer
---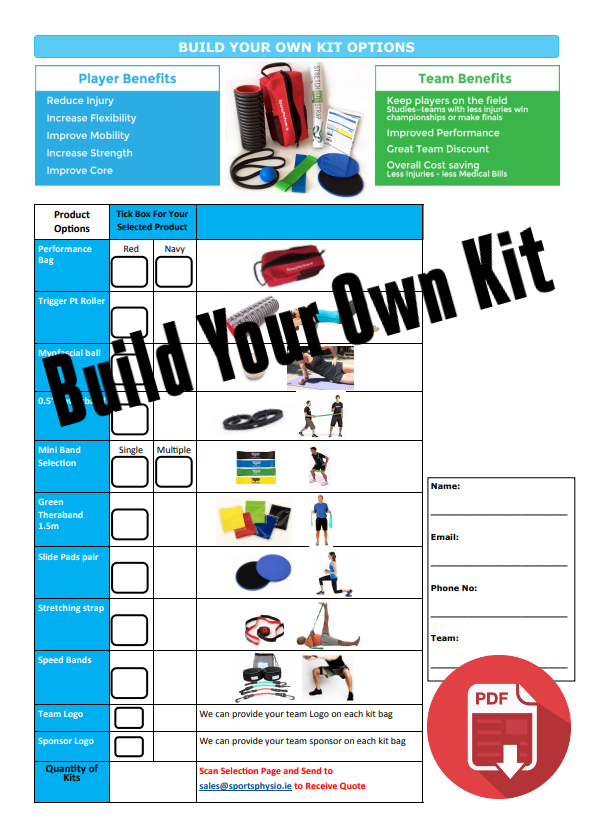 - Use our Kit Build by clicking the image above and you can put together a pack for your team and players who may be training remotely.
Special Price


Excl. Tax:

€29.67


Incl. Tax:

€35.90

Regular Price


Incl. Tax:

€42.23

Special Price


Excl. Tax:

€53.91


Incl. Tax:

€65.23

Regular Price


Incl. Tax:

€72.48

Special Price


Excl. Tax:

€107.10


Incl. Tax:

€129.59

Regular Price


Incl. Tax:

€143.99

Special Price


Excl. Tax:

€39.51


Incl. Tax:

€47.81

Regular Price


Incl. Tax:

€53.12

Special Price


Excl. Tax:

€7.11


Incl. Tax:

€8.60

Regular Price


Incl. Tax:

€9.56

Special Price


Excl. Tax:

€111.20


Incl. Tax:

€134.55

Regular Price


Incl. Tax:

€168.19

Special Price


Excl. Tax:

€95.20


Incl. Tax:

€115.19

Regular Price


Incl. Tax:

€143.99

Special Price


Excl. Tax:

€4.41


Incl. Tax:

€5.34

Regular Price


Incl. Tax:

€5.93

Special Price


Excl. Tax:

€2.97


Incl. Tax:

€3.59

Regular Price


Incl. Tax:

€3.99

Special Price


Excl. Tax:

€5.31


Incl. Tax:

€6.43

Regular Price


Incl. Tax:

€7.14

Special Price


Excl. Tax:

€17.01


Incl. Tax:

€20.58

Regular Price


Incl. Tax:

€22.87

Special Price


Excl. Tax:

€15.21


Incl. Tax:

€18.40

Regular Price


Incl. Tax:

€20.45

Special Price


Excl. Tax:

€20.61


Incl. Tax:

€24.94

Regular Price


Incl. Tax:

€27.71

Special Price


Excl. Tax:

€17.01


Incl. Tax:

€20.58

Regular Price


Incl. Tax:

€22.87

Special Price


Excl. Tax:

€62.10


Incl. Tax:

€75.14

Regular Price


Incl. Tax:

€83.49

Special Price


Excl. Tax:

€7.11


Incl. Tax:

€8.60

Regular Price


Incl. Tax:

€9.56